Wageningen, or Wagga for youngsters, is alluring. This small historic town in Gelderland receives much exposure for its ground-breaking university that focuses on life sciences and agricultural research, and this comes with a vibrant student atmosphere. Let's be frank: it may not be the most bustling city of The Netherlands, but there is more to Wageningen than the university. The enchanting city centre boasts pretty streets and villas, communal gardens, hidden eateries and cafés. Behind the city centre lies the Rhine with its sandy beaches and cow-filled floodplains, overlooked by the great big Berg.
Population: 38.800 people
Language: Dutch
Unit of currency: Euro
How to get there: Schipol Airport is the Netherlands' busiest airport. From there, enjoy the Netherlands' affordable and fast trains to the Ede-Wageningen station, where an OV-fiets, a bus or a long walk await you.
Wageningen is a rather small and rural town, so one cannot expect a cultural offer in the likes of Amsterdam. However, if you look carefully enough, you'll find little bit of everything.
Movies & Theatres
Theatre Junushoff
This theatre claims a heritage of 140 years. Located in the middle of a park, it is the perfect spot for summer concerts, comedy shows, and public entertainment.
Theatre de Wilde Wereld
This small theatre in the heart of Wageningen offers the ideal stage for small productions. SHOUT, Dance30+ and OGDD often organise parties in the hall.
Heerenstraattheater
The brightest light of Wagga's movie scene, this is a combination art-house cinema and café. It shows both indie and mainstream films in English and Dutch.
Music
Do you want to enjoy live music this Friday night? Then head to Loburg Café, where you might find a concert, a DJ set, or even a comedy night. If electronic music is your thing, stay updated on the socials organised by MiniCulture, De La Niets (DNL), or NACHTDIER, because they might be up to something…
If you want to get lost in museums, hop on the next train to Amsterdam. But if you want to discover a little more about the history of the town or the soils of the world, Wageningen has some museums to offer.
Hotel de Wereld
In 1945, Hotel de Wereld was the dramatic setting
for the capitulation of the German Occupation. Its restaurant has a Michelin star since 2010, and the Capitulation room has remained virtually unchanged since that historic event.
Museum de Casteelse Poort
This small museum lets you discover the history
of Wageningen from the medieval period all the
way to today.
World Soil Museum
Learn more about the nature and the diversity of soils in the world and their importance for society and for science. What's more, this unique museum is located on the university campus.
Bee Museum
More interesting than it sounds, this apiculture museum takes a closer look at the honeybee. It also houses a bee garden and a shop selling
honey products.
Art
A few art galleries and an annual event to promote local artists exist in Wagga.
Gallery Wit
Uncompromising works of art by new and upcoming as well as established and internationally known works, including drawing, painting, sculpture, photography film and installation.
Het Depot
This sculpture gallery houses a collection of torsos and fragments of the human body. Imagine, art books design Arguably the loveliest bookstore in town, this little shop sells books, paintings, posters by (local) artists, and you can enjoy a coffee in the garden.
Culturele ronde Wageningen
This annual event promotes local artists in Wageningen through exhibitions and visits to artists' ateliers. 
Secret spots on the WUR campus
The wooly mammoth
When studying in the forum, you're actually sitting below centuries of wisdom and insight: the imposing skull of a great big wooly mammoth hides on the 9th floor. The skull is one of the thousands of mammoth fossils found in the Netherlands, a small country with a huge mammoth record. Rumour has it you'll get 0.1% wiser for every hour spent beside it.
The secret love bench -"What's it really all about?" bench
At the edge of campus lies the Lumen natural garden, a little oasis of wild plant species, insects and birds. The most beautiful bench in all the
land lies within it, offering the perfect spot to get some peace and quiet, contemplate life, or make a marriage proposal.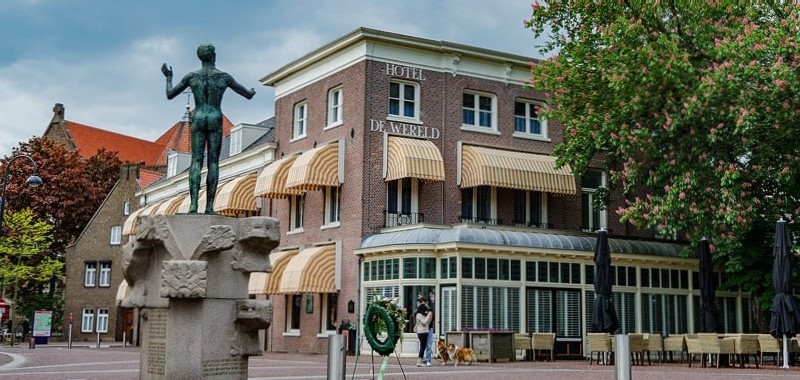 Da Martini winkel
With a striped monochrome awning, marbled counter and Neapolitan slow-rising-dough pizzas, Da Martini is a slice of bella vita in Wageningen. Selecting exceptional produce is precisely what the owners envisioned.
Ivan Market
Enchantingly vintage in design, with bar and overhead ceiling fan, this is a tasty little neo-bistro delightfully off the tourist-trodden track. Ivan Market is the place to buy your kapsalon or the falafel sandwich that packs a punch for just 2.99€. And, yes, it should fall apart on the first bite, covering your shirt, your shoes, and your useless napkin in a sea of sauce.
Mekking
It will require a bit of a cycle, but if you're feeling adventurous and you have a birthday coming up, head to Bennekom for the finest of Dutch pastries. Make sure to get there early on King's Day to enjoy the best Tompouce in town.
Milk Veld & Beek
Farm with the secret shed behind the AH where you can get milk and butter. You need a key. It's not just a speak easy but also an escape room. Challenge for the year: find the key.
Onder den Linden
This café doesn't actually seem to be under a linden tree, but it serves arguably the best mushroom bitterballen in town, accompanied by
truffle mayonnaise, which you can enjoy with one of many beers on tap.