On 19 October, the "biggest WUR career day yet" was held. Over 100 companies were invited and were reportedly "all searching for you!". At this event, companies set up booths in Orion and Forum, conducted one on one interviews with students, and some lucky students could even have lunch with potential employers.
As Astrid van Noordenburg, Manager of the Student Career Services (SCS), so energetically put it on Instagram in August, this is "exciting right?!". This event sparked my interest in the SCS, and Hanna and I interviewed Astrid and Vincent Koperdraat, WUR's press officer, to find out more about the inner workings of the SCS.  
The purpose of the SCS
Established only 5 years ago, the SCS is WUR's career office and aims to support students in their orientation on the labour market and transition from study to career. The SCS offers a broad range of services, from coaching students for interviews and CV checks to organising career events.
By guiding students in their applications and through career events, the SCS influences the career choices of a growing number of students. Companies approach the SCS to have their positions promoted through their online job platform JobTeaser. Astrid van Noordenburg from the SCS then screens these companies through email or by meeting the representatives in person or online and checking that the position offered is relevant for students at WUR and that the company's values align with those of WUR. If Astrid questions whether the company fits these criteria, she will discuss them with the press officer to decide whether the position can be promoted. Astrid assures us that "[the SCS is] not a recruitment agency but is here for the students." So, if there is no match between the organisation and WUR's study programmes, the employer will not be allowed to share its vacancy.
What is deemed ethical is subjective. Some students may argue that the business model of fossil fuel companies, which relies on the exploitation of people and nature, is not compatible with a sustainable future. But, when asked whether fossil fuel companies could recruit from WUR, Astrid said that there are positions in these companies which could be relevant for WUR students — so they are not ruled out pre-emptively. Since an objective description of the screening process is not in place, this leaves room for subjectivity, and thus discussion.
How the SCS facilitates companies' recruitment of WUR students
The SCS aims to "[enable] students and employers to get more easily into contact with each other". One such way is through facilitating companies to post their job vacancies for free on the SCS's Jobteaser website.
Another way is through partnership agreements that companies have with the SCS. There are two levels: Plus and Premium partnerships (see image). Companies pay different fees for each type of partnership and receive benefits such as a "highlighted company profile on WUR Career Platform", their logo on the SCS website, and "employer branding" at Wageningen Campus. All partners also receive access to a "CV Talent Bank" during events they participate in and can purchase additional "tailor-made events", such as an excursion to the company, which are developed in collaboration with the SCS.  For some extra money they can even get advertisement space in Resource's hardcopy and on their website.
The fees for the partnerships cover the rent for facilities and catering costs, and the SCS does not make a profit from these partnerships. Companies that have signed a contract for the Premium Partnership currently include Limagrain, McCain, MSD, Rijk Zwaan, Ter Beke, Viterra BV, Bunge Loders Croklaan, and BestMix. Plus partnerships seem less desirable, with only Econsultancy, Royal Agrifirm Group, and Seed Valley having signed up.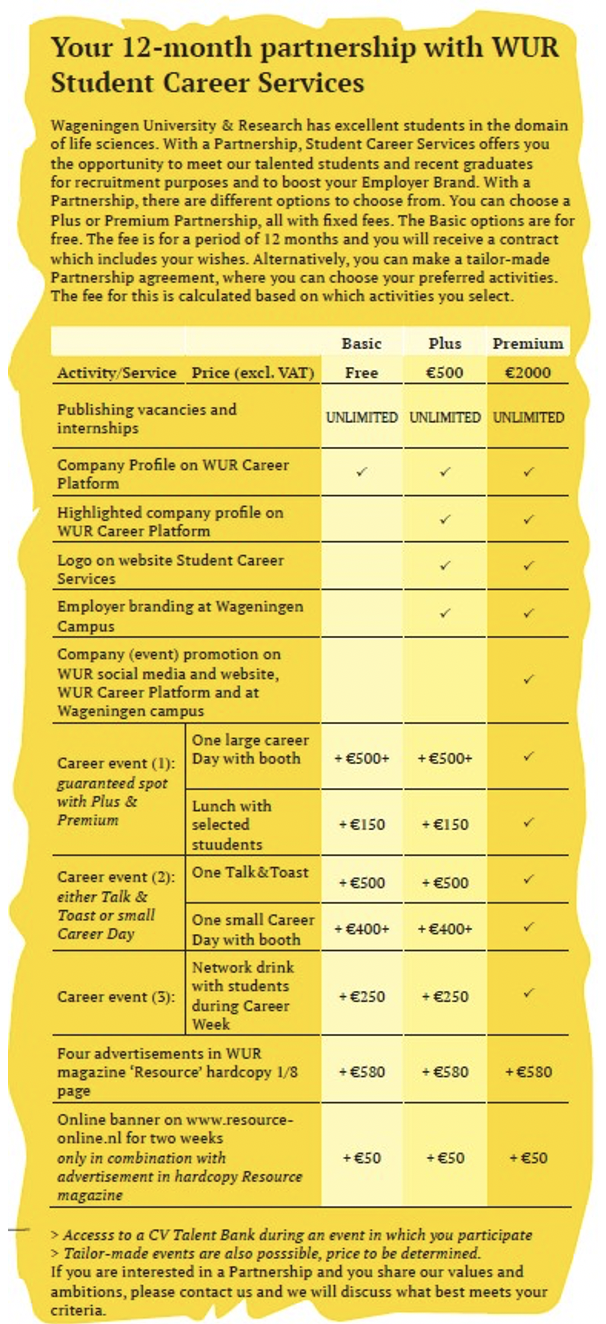 The Career Day in October
The companies represented at the Career Day in October can be split broadly into two groups: agri-businesses/agri-food (such as Agristo, Euro Patisserie, Hudson River Biotechnology), and consultancy companies (such as Econsultancy, Advipro, AT Osborne). Included among the agri-businesses are some companies that stand out for their notorious environmental and social practices.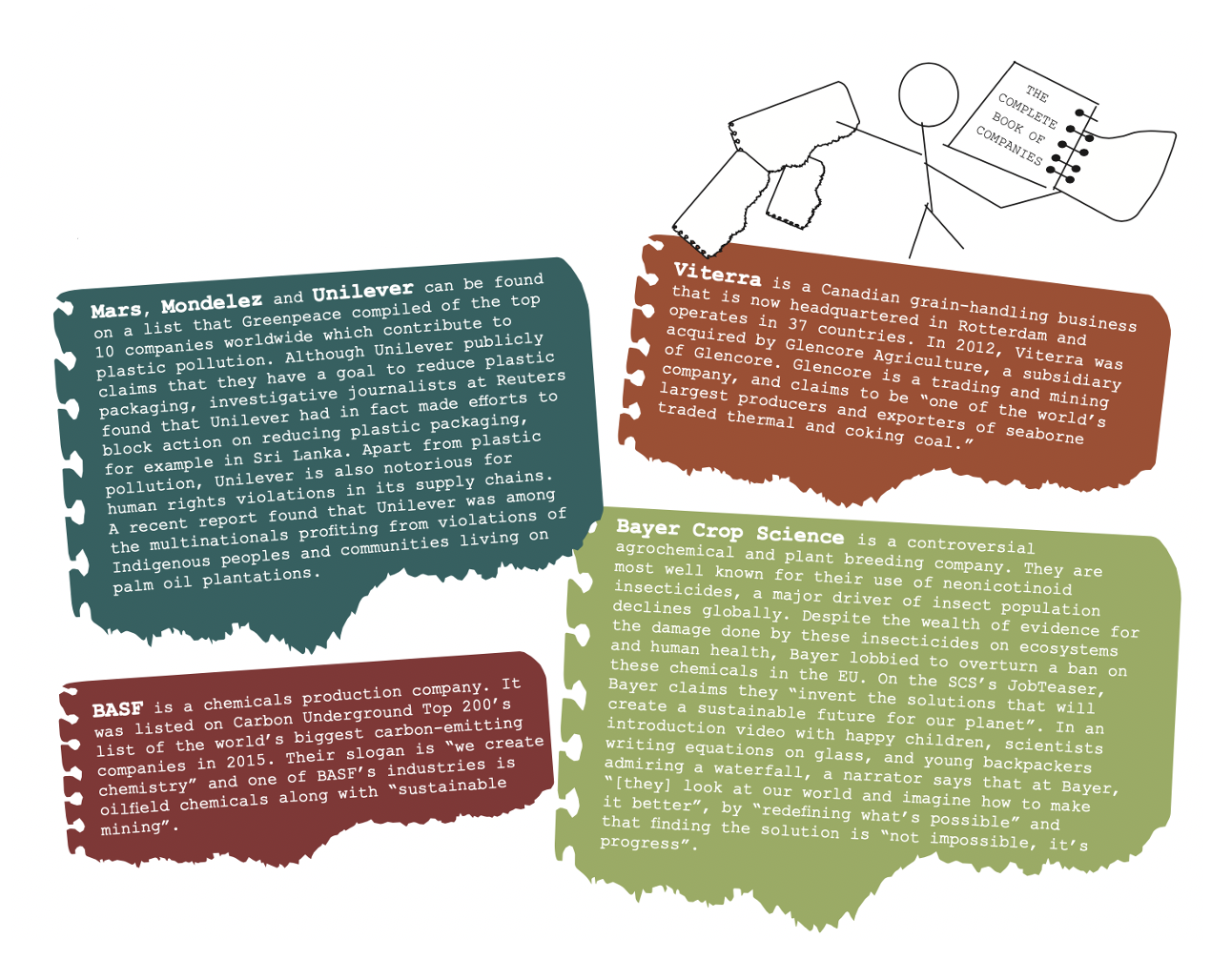 The attendance of these companies at the Career Day is even more shocking given the lack of civil society groups, non-profits, political parties, and NGOs. With WUR professing to be "pioneering for a better world", it is disappointing that so few organisations concerned with environmental and social justice are present at this Career Day – especially since so many companies with questionable environmental and social records have been allowed to come. Astrid explained that this is a problem that the SCS are aware of, and they are working on expanding the range of companies at Careers Days. While the costs of stands are kept low with that aim, even the €400 for the smallest stand can be prohibitively expensive for small companies and NGOs. Also, these organisations may not continuously have vacancies to offer, which for them can be the main incentive to come to a careers event. A possible solution to this could be to have for-profit companies pay a higher price to cover the costs for smaller companies and NGOs.
Protest at the Career Day
In response to the narrow representation of companies at the Career Day, students in Extinction Rebellion (XR) Wageningen protested in Orion and Forum by walking through the fair with an XR flag and banners with slogans such as "Bayer/buyers" and "Why are you here?". Although their protest was quiet and hardly disruptive, the students were told to leave in both Orion and Forum as university staff told them the demonstration was "not suitable" for the Career Day. Astrid added that she disagreed with the protest because she did not understand the point of the demonstration: "Bayer does not work with GMOs anymore in Europe, so what is the problem?". Vincent explained that protests need to be announced to WUR at least one week in advance of the event, including the purpose of the protest. Then, WUR can decide whether to approve or prohibit the protest (as the campus is privately owned by WUR and is thus not a public space). Since the Career Day protest was last-minute, it was not approved, and students were told to leave. He reassured us, however, that "the right for WUR students to protest is very important, and that critical minds are welcome at the university".
Transparency of the SCS
A barrier to understanding the choices the SCS make is the lack of transparency on its website. For example, it is very difficult to find information about the screening process that the SCS does when deciding whether to allow a company to be promoted by the SCS. The SCS never responded to an earlier request by the Jester to elaborate on the screening process and past partnerships. Frustrated, we requested an interview with the SCS, and only through this interview were we able to find much of the information reported here. Although the SCS were open to answering our questions in the interview, their transparency to the public is currently too low: the screening process procedure should be more objective and easily accessible for all students making use of the SCS's services.
Conclusion
Through partnerships and recruitment events like the Career Day, the SCS selectively promotes certain companies over others. Students have the freedom to apply to positions at any company they wish to work for, but because of its intervening role, the SCS has a responsibility to represent a variety of options to students and not just those companies who are willing to pay. The SCS needs greater transparency, WUR students deserve to have an SCS that is honest about the decisions that may decide on their career paths and one which is open to criticism. As Vincent so aptly put it "we need friction for a university to thrive", this is a mindset that we need for challenging the SCS through journalism and protests.