As many market goer may have forgotten, there are restaurants and shops in Wageningen too. Run by people in buildings who are passionate about food and wanting to make money, the restaurant is quite different from a market.
Difference #1 – Restaurants pay high rent for buildings that people can't enter.
Difference #2 – You sit in chairs with a table and someone brings pre-prepared food to you on a plate – weird I know.
Difference #3 – They've been closed for as long as many of our goldfish brains can remember.
We spoke to the pickleman about his Pickleshop Watinhetvatzit to find out what happens in these strange buildings and to see if he has any answers to our pressing questions.
What happens in the Pickleshop?
Pickleshop Watinhetvatzit is a shop selling fermented food in the center of Wageningen where you can find all kinds of fermented vegetables: sauerkraut, kimchi, miso (fermented beans and barley), but you can also pass by for a quick lunch and try some vegan-friendly fermented food recipes. The owner uses products which are locally grown and come from a radius of 15 km away from Wageningen. He collaborates with gardeners, oysters mushroom growers from Ede, farmers, shepherds, as well as with other shops.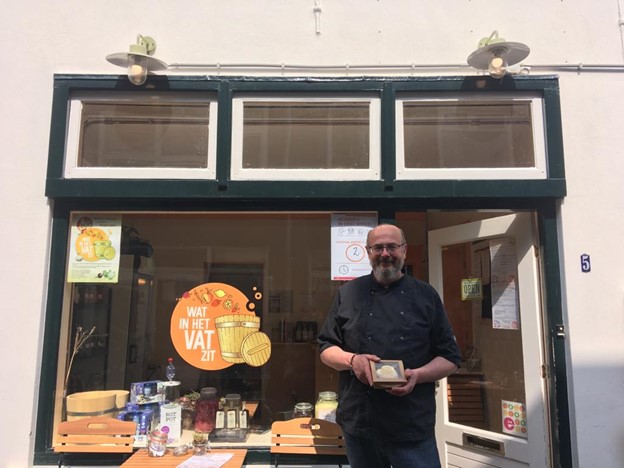 Did the lockdown leave you in a bit of a pickle?
My initial plan was to start last year, on the 16th of March, exactly 24 hours after the first lockdown. That was postponed until September, when I opened here. The terraces were still open, so that was nice. Afterwards, in October it started to go down. So, it was very hard, I could barely make the costs of my shop. The vegetables are very nice to make, but the main income comes from the lunches. In the last months, I was open only on Wednesday and Saturday, for the market days, as I figured those were the days most people were in the city. Now, with the terraces open again, I am at the shop 4 days a week.
How did people experience the first day of this restaurant & shop concept?
I think, people are still a bit scared. They probably want to I wait a little bit to see how it goes. That's why last Wednesday was still very quiet. However, the bad weather might also have to do something with it.
As for today, if the weather is good, I can fit 4 tables in front of the shop, so I hope it will be busy.
Does the pickleshop have an answer to the corona pandemic?
I think we should all work more on our bodies and I think one way that we can do that is by eating fermented vegetables, which are very good for the immune system. I think we should focus more on prevention. Also, I am very worried that all the money is going to the big farms, to the big companies and that small business don't get enough. I, for example, cannot get anything from the government, which is a bit strange. I am afraid that if this stays too long, we will only end up with McDonalds and Action and those kinds of shops. So, I hope they take care of the small business too.