On Monday the 17th of October,  an event on WUR's campus was organised to support the Iranian protests currently occurring. This was organised by Iranian students in WUR.
In an unprecedented show of support, people around the world have been protesting for Iranian women's right by defiantly setting their headscarves on fire and cutting their hair in public. 
The following text comes from the organisers of the event,  describing the situation in Iran, personal experiences, and sending their own hair cuttings to the Iranian embassy. 
For Iran:
I would like to thank you all for taking the time and join us today to stand in solidarity with Iranian protesters who are fighting for women's rights, democracy, and freedom. Your presence is heartwarming and very much appreciated.
I'm here today to speak on behalf of many Iranian WUR students, employees, and affiliates that many of them can't publicly voice their support in fear of not being able to return to Iran again.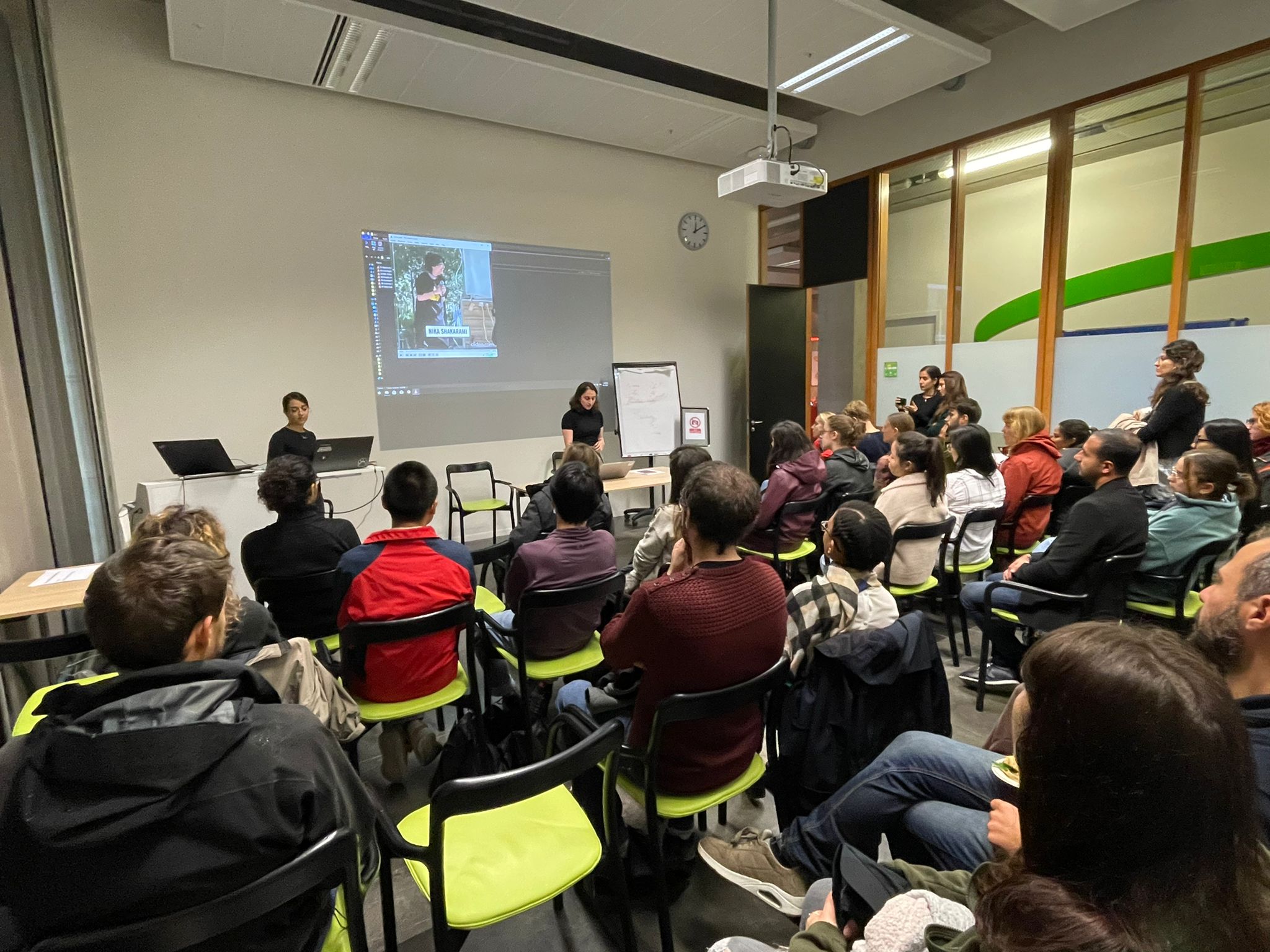 The last 4 weeks have been weeks of terror, anger, and tear for Iranians both inside and outside of the country. The recent uprisings have been sparked by the death of a young 22 year old woman, Mahsa Amini, while she was in police custody. She was arrested on September 13th by the morality police because part of her hair was out of her hijab. She was beaten in the so-called re-education center and 3 days later she was announced dead because of brain Injury.
As a woman living in Iran, you can easily be treated as a criminal just by showing part of your hair, choosing your desired outfit (and not the one that the rules are imposing), singing, dancing, riding a bike, kissing a loved one, the list goes on. In the past 4 decades, the fundamentalist government of Iran has tried to eliminate women from the society. And it is not just about women, many minorities, opposition groups, human rights, and environmental activists are also been wiped out.
Since September 26th many defiant Iranians have come to the streets to protest for basic human rights, for women's rights, and freedom. But the protests have been brutally cracked down by the government. The videos coming out of many cities of Iran such as Sanandaj, Baluchesten and the capital Tehran are deeply disturbing, showing the raw violence of security forces shooting the protester even live ammunition. In the past 4 weeks at least 200 people have been killed on the street. All young and full of life. Based on the amnesty international report among those there are 28 children, aged 7 to 17. Yes, you heard it correctly, the riot police has shot dead a 7-year-old kid for chanting slogans on the streets. Hundreds of people have been arrested, tortured, or disappeared.
It was just last week that security forces besieged Sharif university, the top university in Iran, and started to shoot students with pellet guns and use tear gas.
It was just last Wednesday that security forces attacked a high school in Ardebil, a city in the northwest of Iran, just because the student refused to sing the pro-government song. They beat up the students and arrested many of them. 10 students ended up in the hospital and the day after one of the girls was announced dead because of heavy internal bleeding. This raw violence against children is considered a war crime all over the world. Our fellow students are in a life-threatening situation in Iran.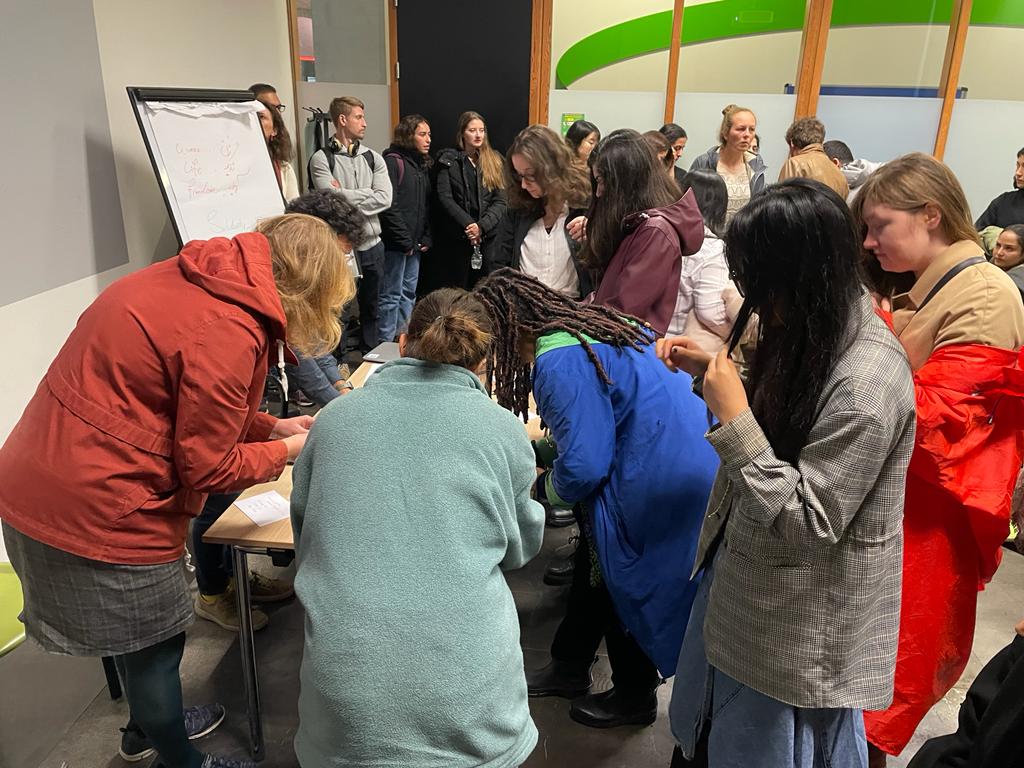 The government has shut down the internet and blocked many social media such as Instagram and Facebook to prevent the spread of the news. Messaging apps such as Whatsapp and Telegram have stopped working. Many of us, living abroad, can hardly contact our family members. They want to continue the bloodshed in our silence. Last time that they shut down internet in 2018, 1500 of protesters were killed and many were arrested and tortured.
In this situation, we hold it our great responsibility to be the voice of Iranian protester. To not let this movement die down. We keep their voices alive on our social media and in our voices and hearts.
And please do not discredit your impact. All the hashtags and comments and posts that you have shared have helped us to make great news agencies to cover the protest and put more pressure on the Islamic republic. In Canada, we have succeeded to ask the government to apply targeted sanctions against members of the Islamic republic and freeze their assets. We have succeeded to ask Canada to put IRGC which is the violent branch of the Islamic republic army under heavy sanctions.
Family members of many of Iran's governmental figures are currently living abroad in Europe or the USA or Canada, enjoying a free, democratic society while their parents are complicit in the violent oppression of the protesters in Iran. We ask European countries to follow Canada and put IRGC under sanctions and freeze their assets.
As the last point, I would like to address Wageningen university which prides itself on being an international institution. We need you to speak up about global issues when they arrive. Our fellow students in Iran need your support.
And to my brothers and sisters in Iran. We stand with you, we fight with you.
And we make the world remember your sacrifices for women's rights, democracy, and freedom. We chant with you in every corner of the world:
Women, Life, Freedom.
Thank you.
Throughout the Netherlands, people have come together to protest and march in solidarity with Iran's people, with the Dutch justice minister Dilan Yesilgöz cutting off a lock of her hair live on television in support of women in Iran, in early October. 
If you would like to help Iranian women and girls in their fight for equity and freedom, take a look at some of these organisers, initiatives, and charities: