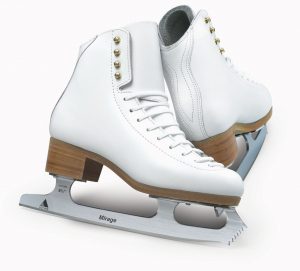 The ballerina
This ice skate is reserved for the hockey girls. You know the ones in the library that always wear flared pants, two necklaces and tie their shiny long blonde hair in a bun on top of their head? Be warned, these skates are not for the amateur skater since you're likely to fall flat on your face (in a cute way). Keep your distance from anyone using this ice skate, they may jump into a sudden pirouette or break out in contemporary dance.
---
The sensible skater
This ice skate is a trusty beast. The top pick of any Italian amateur skater who is out there to get some pics for the gram and then rush home to cry under a blanket because their hands hurt. The hockey skate is guaranteed to protect your ankle, be painstakingly difficult to get off, and make you look like you have no idea what you're doing. But seriously it's probably your best bet if you don't want to end up in too much pain.
---
The toxic skater
Unlike the rest of you peasants, this skater came out of the womb in ice skates, eats hagel slag for breakfast, and barks on about how the Elfstedentocht could happen this year. They will skate with their hands behind their back and look at you with shame as you flail your arms in panic and fall to the ground in front of them. Advice from a high speed skater ranges from "keep your ankles steady" to "just lean forward". Yeah thanks for that genius.
---
The vintage shopper
This person most likely went to Emmaus or Marktplaats and bought the cheapest skate they could find. They were high-speed one day but now they're more likely to leave you with crippled ankles and a defeated ego. But hey, they will look great with your rainbow colored ski jacket you found for €5 on Vinted.
---
The true newbie
The good old pair of battered converse you've had since you were 16 – or any equivalent old shoe. These are the favorite choice for any international who has only seen frozen lakes in Disney movies. The battered converse wearers will most likely be huddled together in a group holding each other screaming while they slip on the ice. One person of the group will be given the prestigious duty of filming it and posting it on their story for all the world to see.